Get Bright Future With Us
B.Sc. Hons. Biological Science
The B.Sc. (Honours) Biological Science at Sri Venkateswara College was introduced in the year 2005 by the University of Delhi. The inception of this course is the vision and valuable efforts of Prof. K. Muralidhar (Former Professor, Department of Zoology, University of Delhi), and Dr. A. Sankara Reddy (Former Principal, Sri Venkateswara College). The aim of this course is to teach biology as one of the integrating natural science domains at the undergraduate level. This course is one of the interdisciplinary undergraduate courses of University of Delhi and relies on strong foundations of Biochemistry, Botany, Chemistry, Physics and Zoology. The curricula for this programme are designed to incorporate learning experiences that offer opportunities for in-depth study and hands-on laboratory experience. The course provides students with the knowledge and skill base that would enable them to undertake further studies in multidisciplinary areas that involve Biological Science and help develop a range of generic skills that are relevant to pursue research and entrepreneurship.
The course is taught by the highly qualified faculty from the departments of Biochemistry, Botany, Chemistry, Physics and Zoology. Innovative pedagogic practices are constantly adopted by the teachers to provide an interdisciplinary approach to the subject. The Biological Science has a well equipped laboratory with instruments to perform the practicals and undergraduate research projects. Further, to enrich their knowledge and motivate towards critical thinking and research, the students are encouraged to participate in various activities like seminars, conferences, field trips, summer internships and undergraduate research projects. For holistic development, students are encouraged to participate in extracurricular activities such as Magazine release "Verdure", and various student competitions under the society "Chrysalis".
Biological Science at SVC, provides an extraordinary range of opportunities and enriching experiences to students that facilitates their transformation into world class leaders in science. Every year, several of the students are well placed in various top national as well as international universities/institutes and engaged in scientific and technological advancement to address global challenges for a sustainable future.
Teacher Coordinator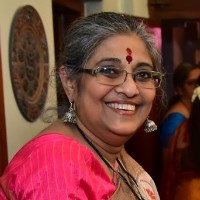 Welcome & Greetings!
Dr. Nandita Narayanasamy
Assistant Professor