Dr. Rajendra Phartyal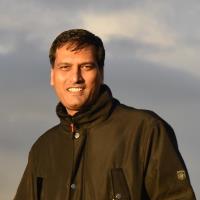 Assistant Professor
Department of Zoology
rajendraphartyal@svc.ac.in
Educational Qualifications
Areas of Specialization
Fish Endocrinology, Protein purification, Primary Cell Culture
Administrative roles/ responsibilities


1.	Co-Convenor of Bioscience Annual Magazine for the year 2018-2019.

2.	Member of Zoological Society "Evolvere" at Sri Venkaterwara College, Delhi University since 2017.

3.	Member of Zoological magazine "Phoenix" at Sri Venkaterwara College, Delhi University since 2017.

4.	Convener of Department Book Bank committee , Zoology Department 

5.	Co-coordiantor for Three day work shop on Computational Biology for (Meta) Genomics Analysis. Date:24th-26th February, 2020, organized by Department of Zoology in association with Indian National Science Academy.

6.	Co-coordiantor for International E- Conference on "Health and Research in Current Scenario; with special emphasis on COVID-19 Virus Genomics and Pathogenecity" jointly organized by Sri Venkateswara College, University of Delhi and Phixgen Pvt. Ltd. on 17th July,2020

														
														
Courses Taught
B.Sc. Hons. Zoology, BSc Hons Biological Science, BSc Life Sciences subjects taught mainly- Ecology , Photobiology, Evolutionary Biology , Human Physiology , Animal Physiology, Aquatic Biology, Genetics


•	Rahul Sharma, Rakesh Kumar, Rishi Kodwani, Sukriti Kapoor, Anukriti Khare, Ritu Bansal, Sonali Khurana, Sandhya Singh, Jennifer Thomas, Bornika Roy, Rajendra Phartyal, Shukla Saluja and Sanjay Kumar. 2016. A Review on Mechanisms of Anti Tumor Activity of Chalcones. Anti-Cancer Agents in Medicinal Chemistry, 2016, 16, 200-211

•	Perumal Jayaraj, Seema Sen, Srishti Rangarajan, Neelanjana Ray,  Kirtana Vasu, Vijay Kumar Singh, Rajendra Phartyal, Sarika Yadav, Anita Verma :Immunohistochemical evaluation of stress-responsive protein sestrin2 and its correlation with p53mutational status in eyelid sebaceous gland carcinoma.  Br J Ophthalmol. 2018 Feb 24. pii: bjophthalmol-2017-311283. doi: 10.1136/bjophthalmol-2017-311283. [Epub ahead of print] ISSN 1468-2079

e-book: 

•	Contributed to Hindi translation translation of the e-book "The Pandemic Notebook" published by The Hindu in 2020 with the title " Mahamari Margdrashika"

e-Lesson Plan: 

•	Lesson plan on "Evolutionary Adaptations to Climate Change" (December 2019) by Dr. Rajendra Phartyal and Dr. Mansi Verma for TROPICSU  project is funded by the International Council for Science (ICSU), led by the International Union of Biological Sciences (IUBS), and co-led by the International Union for Quaternary Research (INQUA).