Dr. S VENKAT KUMAR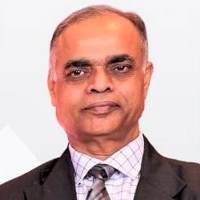 Associate Professor
Department of Commerce
venkatsingaraju@gmail.com
Educational Qualifications
PhD in Commerce from Sri Venkateswara University, Tirupati in 2007.
PG Diploma in Personnel Management, Industrial Relations and Labour Welfare with first-class from Andhra Pradesh Productivity Council, Hyderabad in 1984.
M.Phil. in Commerce with first-class and a recipient of university merit fellowship from Sri Venkateswara University, Tirupati in 1986.
M.Com. with first-class from Sri Venkateswara University, Tirupati in 1983.
Areas of Specialization


•	Industrial Relations with special focus on grievances and it's handling methods. 

•	Business Law

•	International Business

•	Tax planning

•	Organisational Behaviour with special focus on learning, perception etc. Group dynamics Vs Individual behaviour.

														
Administrative roles/ responsibilities


•	Vice-principal of the college from 29th May 2020 onwards.

•	Acting Principal of college from 29th May 2020 to 17th January 2021

•	Member of the College IQAC till January 2021

	Examinations

•	Was the founding member of the college internal exam system having been started in 1998 and was continuously associated with it for more than a decade.

•	Worked as Deputy Coordinator of the Central Evaluation Centre on many occasions, i.e., in annual system pattern in 2006, 2007, and in semester system in December 2011, May 2012, November 2012, November 2015 and November 2016.

•	Was part of the conduct of Delhi University Theory Exams as Deputy Superintendent and Superintendent in 2008, 2009, and former status for several years till 2017.

•	 Convenor of the Central Monitor Committee w.r.t. Internal Assessment on earlier occasions including the present period.

•	Convenor and member of the College Time-Table Committee from 1998 to 2008.

•	Member of the Academic Planning Committee for one term.

•	Convenor of Admissions for four years from 2015 to 2019.

•	Secretary Staff Council from May 2019 to May 2020.


II. Finance Related Activities

•	Member of Governing Body appointed College Finance Committee (convenor) in and from 2011.

•	Bursar of the College in two spells, i.e., four year period starting from April 2010 to March 2014, and for a brief period between February 2018 and October 2018.

•	Was a member of PF Committee, Hostel Committee, XII Plan Committee, Building Committee and Development Fund Committee.

•	Has the experience of working and coordinating with C&AG Audit team in the year 2013 and preparing comprehensive responses to the Audit notes and the Audit report related objections.

•	Has been actively associated with the process of pay fixation of the staff of the College in all the three pay commissions since my permanent status, i.e., V CPC, VI CPC and VII CPC.


III. Student Associated Activities

•	Was the Proctor of the College during 2004-2006.

•	Staff Advisor Students Union during 2006-2009.

•	Initiated the placement activities in the College and was in charge of placement for around eight years from 2000 to 2008.

•	Was part of the Sports Committee for a couple of terms between 2002 and 2006, and actively participated in the development of sports grounds, and in initiating the project of Sports Grounds and Cricket Development through an MoU with Sonnett Sports Club.

•	An active participant in the Joint Coordination Committee in various capacities which involves student participation in evolving student-centric policy matters including fee revision etc.


IV. Staff Associated Activities

•	Held the posts of Secretary and Treasurer of the Teaching Staff Association.

•	Held the position of Secretary and President of SV College Employees Thrift and Credit Society Ltd.

•	Presently holding the position of member of the Staff Grievance Redressal Cell.

•	Presently functioning as Nodal Officer for the Pensioners Grievances and redressal of various issues arising in the course of pension fixation as well as revision of pension.

														
														
Courses Taught
None